The #1 Rated
Energy Drink
Raze Energy takes a giant leap of faith with instilling a high quality formula to bring the consumer a powerful yet sustained, energetic experience to help push your workouts and focus in general to the very next level. Perfect for anyone at anytime, Raze Energy has become the most popular and best rated energy drink on the market to date with a phenomenal flavor profile that puts most competitors to shame.
When formulating, we wanted to bring in a major element to help reduce the dreaded crash commonly associated with most energy drinks. We opted for a fast acting energy base with caffeine anhydrous and rouded it out with REFRESH technology to help support advanced hydration and recovery.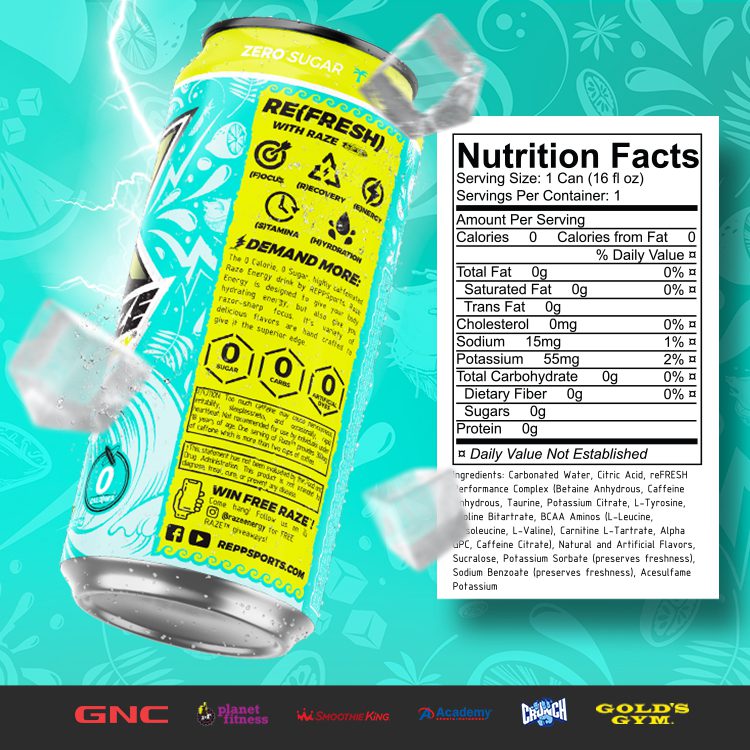 FREQUENTLY ASKED QUESTIONS
HOW MUCH CAFFEINE?

– 300MG OF CAFFEINE PER CAN

WHEN CAN I TAKE THIS?

– PRE-WORKOUT OR DURING THE DAY

HOW MANY FLAVORS ARE THERE?

– THERE ARE CURRENTLY 10 FLAVORS

IS THERE ANY SUGAR?

– RAZE ENERGY CONTAINS ZERO SUGAR
WHERE CAN I BUY RAZE ENERGY?